Whenever we hear or read or even talk about the word 'cancer', a shiver travels down through our spine. And if any of our loved ones suffer from cancer then availing the best affordable cancer treatment across the world should be given a serious thought.
The medical world is ever evolving with new treatment options for cancer such as Bone Marrow Therapy, Hormone Therapy, Targeted Therapy which are directed towards offering a holistic treatment protocol for at times they are combined with chemotherapy, radiation, and other critical cancer surgeries to prevent the further spread of cancer and reduce their after-effects.
Post diagnosis, cancer treatment is heavily banked upon to eradicate it from the body. Your search for most convenient and affordable treatment options will begin and end at ClinicSpots as it offers in-depth and customized responses to cancer-related queries with regards to the types of advanced treatments available, even lists hospitals for cancer treatment across India and profiles of some of the best Indian oncologists available through its intuitive Q and A healthcare information portal.
Additionally, medical tourism being one of the services ClinicSpots provides, its support team can assist in locating the right doctor, most suitable hospital and even liaison on your behalf with the hospital/doctor for treatment and other vital aspects that would enable your travel to India for medical treatment.
India is one of the most preferred destinations for advanced medical treatment across all types of cancer as there are more than twenty cancer hospitals that cater to domestic as well as international patients for their treatment.
The hospitals that are synonymous with cancer treatment are Tata Memorial hospital, Kokilaben Dhirubhai Ambani hospital and Fortis Hospital in Mumbai, American Oncology Institute in Hyderabad, Apollo hospital and Dr Kamakshi Memorial Hospital in Chennai, AIIMS and Rajiv Gandhi Cancer Institute and Research centre in Delhi Mazumdar Shaw Cancer Centre and Columbia Asia Hospital in Bangalore and many others.
Advanced Cancer Treatments available in India
Hospitals in India are very much aligned with advancements in evolving medical treatments. Almost every JCI/NABH accredited hospital in India offers an array of advanced cancer treatments such as Targeted Therapy, Immunotherapy, Hormone Therapy, and Bone Marrow Therapy (Stem Cell Transplant) and so on. This implies that the hospitals, as well as the oncologists, ensure that the patients receive treatment under the highest degree of patient safety and healthcare.
Bone Marrow Therapy 
This therapy involves replacing the diseased bone marrow with healthy bone marrow in the patient's bone marrow. Both the types of bone marrow treatments viz, Autologous bone marrow transplant (healthy cells are taken from the patient) and Allogenic bone marrow transplant (donor-based) are available in India at affordable rates comparatively. This treatment is suitable for blood cancer and other Hematologic Diseases
Hormone Therapy
This is advised to patients suffering from prostate and breast cancer. In this therapy, specific hormones are administered that block or remove cancer cells or even as per medical requirements. At times, this therapy is advised in conjunction with surgical removal of the cancer-stricken organ or the gland or treating the gland through radiation to restrict the further spread of cancer. Here, Hormone therapy is advised to hamper the production of hormones or suppress them. Hormone therapy is given through pills or an injection depending upon the severity of cancer.
Immunotherapy or Biological Therapy  
 A relatively new therapy, immunotherapy works towards fortifying the body's immune system to control, restrict and further spread of cancer. Special immunity system proteins are artificially developed and then given to the patient in various forms such as pills or capsules or through IV or in a skin cream or directly injected into the bladder. Do look out for terms such as cancer vaccines, cytokines, checkpoint inhibitors, and monoclonal antibodies if you are researching or seeking consultation on immunotherapy treatment. In most cases, they are administered periodically until the patient is completely free from cancer.
This treatment is undertaken in periodic cycles i.e. for one-day or for a couple of days or even for two weeks at a stretch depending upon the type and extent of spread of cancer in the patient as advised by a medical oncologist.
Targeted Therapy
Targeted Therapy is a product of advanced medical research wherein the intent is to limit the growth of certain genes, tissues, and proteins that accelerate the spread and growth of cancer in the body. In targeted therapy, patients will be given monoclonal antibodies that either block or destroy or deliver either chemotherapy or radiation therapy internally. Also, as the name 'small molecule drugs' suggests that they are so minuscule that they can destroy the cancer cells by entering in them. This therapy is relatively subtle as against radiation or chemotherapy with manageable side effects.
Cancer Surgery
Cancer Surgery is advised when it becomes necessary to remove a cancer-affected tissue or body part or a tumor. Depending upon the condition of the affected area, open surgery or minimally invasive surgery is performed by an expert surgical oncologist.
The minimally invasive surgery is done using by inserting a long thin tube with a camera in the diseased area to remove the affected tissue/area. The open surgery involves an incision or a cut to remove the outgrowth, affected tissues, and lymph nodes.
Some other surgical techniques include cryosurgery uses liquid nitrogen to kill cancer cells while laser surgery employs a laser to kill or shrink hard to reach cancerous tumours. Also, there is electrosurgery that uses electricity to destroy cancer cells and microscopically controlled surgery is used to work upon delicate body parts that have been affected with cancer. This type of surgery involves examining the removed layers of skin under the microscope.
Chemotherapy
Synonymous with cancer treatment, Chemotherapy involves administering anti-cancer drugs to prevent the rapid growth and multiplication of cancer cells. It is a palliative treatment undertaken to restrict the spread of cancer. Also, known as a Systematic treatment, it is directed towards the entire body to destroy the cancerous cells found at other locations in the body, unlike radiation and surgery that target cancer-affected areas only.
Chemotherapy is administered in numerous ways; they being oral administration i.e the patient can swallow the pills or drink the liquids or intravenous chemotherapy wherein the drug is injected into the veins of the patient. The topical administration of chemotherapy medicine involves the application of medicated cream on the skin. In brain tumour cases, direct placement of chemotherapy is used wherein a lumbar puncture or a device is placed under the scalp for administering medicine, especially in brain tumour patients.
Chemotherapy in India is reliable and cost-effective. A well-integrated oncology treatment plan can be carried out in India at nearly 50% cost as compared to that in the USA and European countries. There are many expert medical oncologists available in India that offer state of art chemotherapy treatments pan India.
 Radiation Therapy  
Radiation Therapy in cancer treatment involves the use of x-rays, gamma rays, protons or other energy-packed beams to break down the DNA in cancer affected cells and restrict their capacity to multiply. Proton Therapy, being the latest offering in radiation therapy is also available in India. Also, available are preferred external beam radiation and internal beam (Brachytherapy) radiation therapies i.e. pan India at cost-effective prices. Here again, a single session of radiation lasts up to 15-30 minutes while it can be administered once a day for either daily or every week depending upon the extent of the spread of cancer.
Why India for Cancer Treatment in India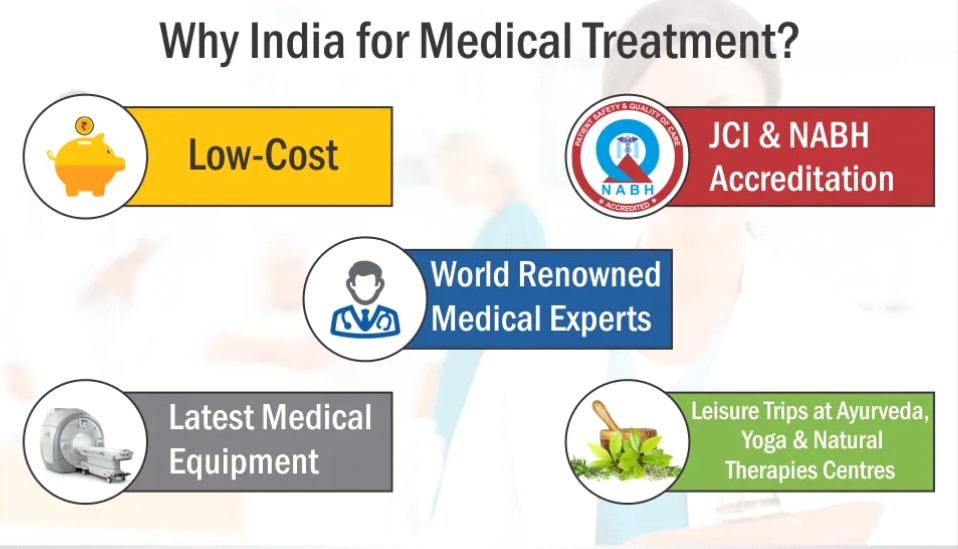 India and its accredited hospitals pan India are fortified with well qualified and experienced oncologists (most of them have sought education and experience at the top most universities and hospitals based abroad) offer almost all of the advanced cancer treatments. So, you can safely go ahead with getting treated for cancer in India at relatively low rates than in other developed nations.
Moreover, there is ample research on these advancing treatments underway within the country, the knowledge of which is shared with the medical community on a regular basis along with the developments happening abroad. In fact, your own research will reveal that India offers the same cancer treatment at far below rates than in those countries with no compromise on the treatment.
For research on the advanced cancer treatments in India for a patient understanding and also for connecting with cancer doctors on request, Clinicspots is the best one-stop destination