If you live in Vegas or Philadelphia and seek thorough sanitizing services, you can trust – look no further than the experts at Germ Hero. Our passionate, highly trained professionals go above and beyond to provide a safe, happy, and healthy environment to all those who enter your home or business. From your family home to the office, we use internally tested, EPA-certified disinfectants with a germ and pathogen kill rate of 99.99%.
Using state-of-the-art technology and innocuous sanitizing solutions, our staff is ready with a disinfection plan that suits your home or business effortlessly. Thousands of businesses and residents count on Germ Hero to protect their environment. Why not join our happy customers in fulfilling a healthy home and business on which you can count? Let us explore some of Germ Hero's characteristics and service options so you can see what sets up apart from other sanitizing companies.
Affordable Pricing
Maintaining a safe, healthy environment should not cost you an arm and a leg. While some commercial disinfection companies charge too much for their services, Germ Hero provides top-notch, affordably prices services for homes and businesses of all sizes. Our prices enable clients the opportunity to schedule regular disinfection on a weekly, bi-weekly, or monthly schedule. Whether you are a small business or homeowner, our affordable sanitizing services make it easy to maintain a safe, healthy business.
Flexibility
At Germ Hero, we understand the importance of a safe environment for friends, family, staff, and customers. With most companies and institutions doing the bulk of business during regular business hours, we work around your schedule to deliver the results necessary for the utmost health and safety. From early mornings to late nights, our experts are available around the clock to cater to your needs. Our highly trained experts provide fast online consultations for free and same-day service as needed. Adding to this convenience, we also accept quick online payments to get things rolling fast.
Science and Technology
Beginning with EPA-certified disinfectant solutions, our methods are backed by science with a guaranteed 99.99% germ and pathogen kill rate. In addition to using only EPA-Registered solutions that are safe for children, pets, and the environment, our disinfectants are internally tested and proven to be effective even on food contact surfaces.  Better yet, there is no need for wiping, rinsing, or ventilation after we disinfect with our state-of-the-art technology.
Powerful, Broad-Spectrum Disinfectants
At Germ Hero, we utilize powerful, broad-spectrum disinfectants that are safe for use in any space. From restaurants and bars to schools and office buildings, we use only the latest technology to disinfect everything from hard floors and surfaces to the inside of your vehicle. We specialize in disinfection and sanitizing, focusing only on what matters most—the health and safety of each inhabitant, from family and staff to customers alike.
Friendly, Outgoing Staff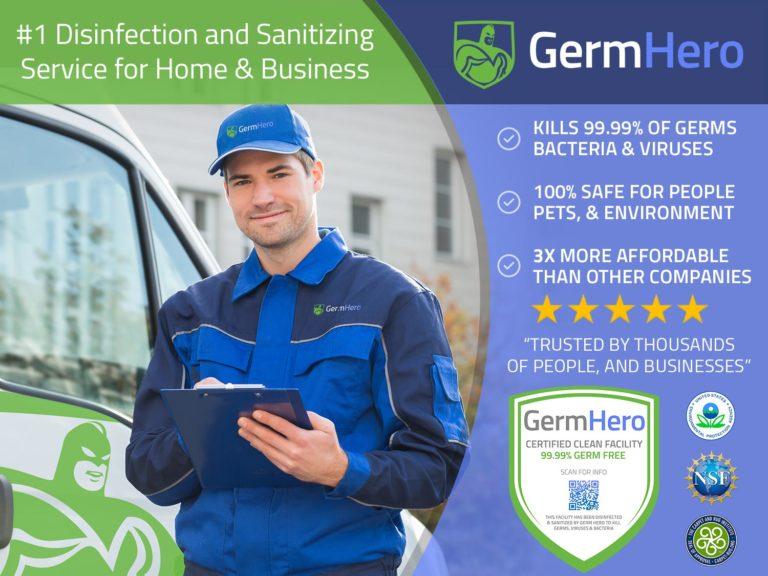 At Germ Hero, we consider ourselves to be than a company—we are a family. It is our collective goal to keep you and your family healthy by safeguarding your home and business. Our passionate experts are ready to help you based on your schedule, with convenient communication and quick, online consultations that will get you set for your first disinfection.
Germ Hero: The Best Way to Disinfect
As you can see, there are many reasons why we do what we do. Our goal is to help you remain healthy and happy at home, in the office, and everywhere in-between. From clients and staff to our children, both furry and not, our disinfection services are safe for everyone—including the environment. If you find yourself in the Vegas or Philadelphia area, get your Germ Hero Sanitary Certification, and show the world their health is paramount to success!